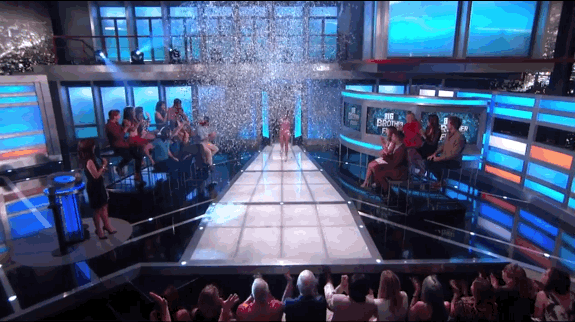 (credit: CBS)
By Mark Drum
Connect with Mark!
Blogspot / Twitter / Facebook / Email
"How did I win?!?" was said by Nicole Franzel the 24-year-old ER Nurse from Ubly, MI while reuniting with her parents at the conclusion of this season. Also congratulations to Victor for being crowned this season's America's Favorite Houseguest. But first, Nicole had an uphill battle winning this season's game. As a returning houseguest, there were multiple twists thrown this season, including one she was a part of. Nicole was a part of a showmance and was called a "snake" on day one of the show. From Friday's episode, the final three were beginning the first of the three part final HOH competition. Paul, James and Nicole were all racing around the backyard then enduring different stations to win. Here's my recap of the season finale of Big Brother 18.
Racing to the Finale Two
During the "Hang In There Kitty," competition, James, Nicole and Paul were dressed at cats that ran around the backyard following a laser to three different stations. When the laser stopped at a station, they had to stay on the platform, scratch post or wall to win the competition. Winning this competition went to Paul as Nicole and James both fell off right after the other at one of the stations. This secured Paul's shot to the final part of the three part HOH competition. Meanwhile James and Nicole had to duke it out for the final position.
The second part of the final HOH competition was called, "Snap Shot." James and Nicole had to correctly answer three questions that involved the past evicted houseguests from this season. Once they think they know the answer, they'd have to put photos of the evicted houseguests into a roller coaster car and push it down the track. James and Nicole also had to get a picture perfect photo of the two yellow rails in the picture and the evicted houseguests in it. The person with the fastest time would join Paul for the final HOH competition. This was a mental and physical challenge for both James and Nicole. They had to run around an amusement park theme ride line to get to the car and track to solve the answer. The photo part was a little tricky as each had to correctly time out the car going down the track with the camera to take the photo. If they were incorrect they had to run all the way back in the line to the car to try to take the correct picture with houseguests. By winning almost double their own time Nicole was named the winner of the second part of the HOH competition, which meant she'd face off against Paul in the final round of this most important HOH.
Dr. Will Checks In With The Jury
Keeping with recent Big Brother tradition, Big Brother Season 2 Winner and All-Starts alum Dr. Will Kirby was back to moderate the discussion of the final three houseguests. Before getting into the discussion the jury had to see the recent evicted houseguest, to some surprise, Corey was greeted with some shock and awe. Paulie was excited but sad to see him in the jury. Corey caught them up with what had happened with his eviction and they went straight to analyzing each of the final three. James was perceived by many in the jury as playing a very lackluster game, by not making any big moves and having a showmance. Paul was seen as the guy who did well in socially but nobody could get past Paul as a person and being a game player was very strategic. Nicole still had one jury member very bitter towards her and it was our other Michigander Michelle. Michelle felt as though Nicole's game was very weak and when it came to her eviction, she felt Nicole did it for personal reasons. This then created some awkward tension in the jury, made Michelle feel uncomfortable and started to get emotional with tears. However, one thing was clear, it seemed more of a debate between Nicole and Paul than James. Sadly, Michelle continued to be salty and bitter towards Nicole which even Dr. Will could not contain his feelings about the situation. Each of the final three did have a cheerleader for them in the jury and it was their duo partners this season.
Paul's $500K Mistakes
For the third and final part of last HOH competition, it was the "Scales of Just-Us," which Paul and Nicole had to select from two statements of what the jury members would have said about a question. For each correct answer they'd get a point and possible putting the scare into their favor. The person with the most points by 8 questions would win. Paul had won this all important HOH, by correctly guessing three out of the eight to Nicole's two. When it came time to decide who he wanted to face the jury, was his first mistake by selecting Nicole over James. This meant the final jury member and last evicted houseguest of the season was James. Paul's next mistake was his very short and non-descriptive answers to the jury. His possible save was his speech to the jury in why he should win. Unfortunately, it was just not enough to get the votes to win and as I predicted was a very close race.
How Nicole Won
To answer her own question, it was by a vote of 5-4! Nicole the season 16 returner, team Freakazoids member and one half of NiCorey won Big Brother season 18. Since day one, Nicole was a target, having been a part of one of the many twists this season. She came into the Big Brother house wanting to redeem herself from her first experience and to play the game. As a superfan, she knew she had to do what's best for her game rather than what the house would want. Natalie stated during the jury chat that anyone could have gotten Jozea, out of the house. However, Nicole wanted Jozea out of the house because he told her, he was going to target her. Thanks to her many alliances this season Nicole had many safeguards to protect her. From the "8-pack," "Fatal Six," and her "Final Four," deals with Victor and Paul as well as Natalie and James, Nicole did not stop playing this game. She may have had some paranoid moments and may have focused a little too much time with Corey, Nicole managed to get past the drama and dodge a few allegations even though some were accurate. She may have been called a snake, not playing a great game, but Nicole won and she became the first female in Big Brother US history to win against a male. Derrick Levasseur, Season 16 winner recognizes the threat Nicole had posed during her first season and got her out when he did. But he also was rooting for her this season and when asked by Julie who would win, had said Nicole. Her final plea with the jury may have fell flat, but her answers to their questions was passionate and showed how much she was playing this game. Nicole is also Michigan's first female winner and joins Dan Gheesling as the second winner from Michigan!
Thank You
I want to say thank you to all who've continued to read my recaps for this season as well as the past seasons here on the CBS Detroit website. It's always a pleasuring getting to give my insight, passion and love of the game to the readers and superfans. Big thanks to CBS Detroit for continuing to have me come back every season to write again and lastly thank you Big Brother. My summers would not be the same if I didn't have it to watch! I'll hopefully be back next year to give my recaps or who knows you might just see me in the house. Robyn Kass, I'm ready for my interview, just let me know when you're free, ok? Let Alison Grodner and the other executive producers as well as CBS know that I'm looking to be on the show! Until then connect with me via social media, email or in person! I'm looking forward to next summer already for Big Brother Season 19! For those of you who can't wait until next summer, we're in luck as Big Brother Over The Top will air exclusively online with CBS All Access!
Mark Drum is a Farmington Hills, MI native and Big Brother fan since 2000. Mark is a graduate from the University of Northern Colorado with a degree in Theatre Arts.
Comments